We planted 150 trees in Velatice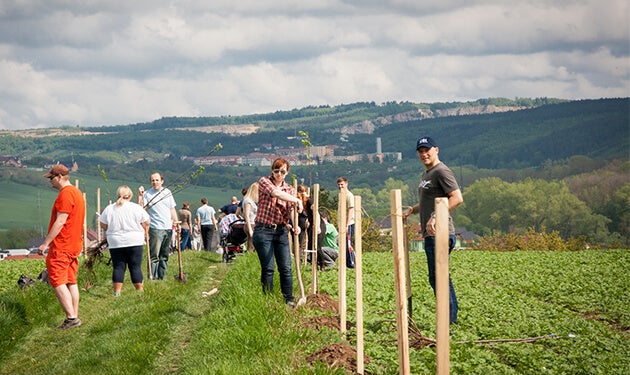 Trees for Bugs: Helping hands are always appreciated
Don't dig yourself into a hole, they've already dug the hole for you! Hat's off to the people of Velatice for their wonderful hospitality… and Improv Performance. Read all about it here.
See the planting map
26th of April, 2014 – Kentico had their work literally cut out for them in this spring 2014 Trees for Bugs Event... well technically, it was dug out for them. Like every Trees for Bugs event, the Kentico team, their friends, their dogs (two to be precise), and their family all set out to make good on their promise: to plant a tree for every bug found in Kentico. Except, something seemed rather odd this time…
As they walked down the paths between the lush and vibrant green fields of Velatice, South Moravia, they stood in awe of the fact that the majority of their hard work was already done for them. All of the holes had already been dug by one of the locals. What a pleasant surprise!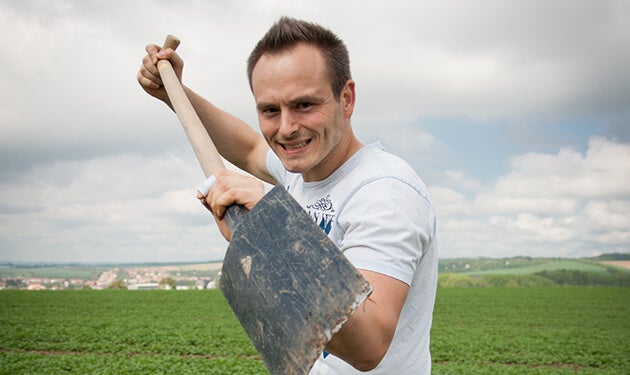 Our planters enjoyed a scenic view of all of the surrounding villages, beautiful Czech spring weather, and good company as they planted away without the hassle of having to dig first! With the sun on their backs and a cool, smooth, yet rich breeze on their faces, they worked from 10:00 in the morning till 12:30, planting over 150 trees for the 133 bugs found in 17 different countries including, China, New Zealand, Israel, Sweden, Portugal, and Austria; the majority of the bugs were found in the U.S., UK, and The Netherlands.

After having planted a rich variety of trees – apple, apricot, pear, plum, and cherry – our dedicated planters went off to have a hearty Czech lunch at Las Velas , the local pub. The planters feasted on home-made Goulash, Schnitzel, fried cheese, and of course, beer (I know… now you wish that you could have been there too).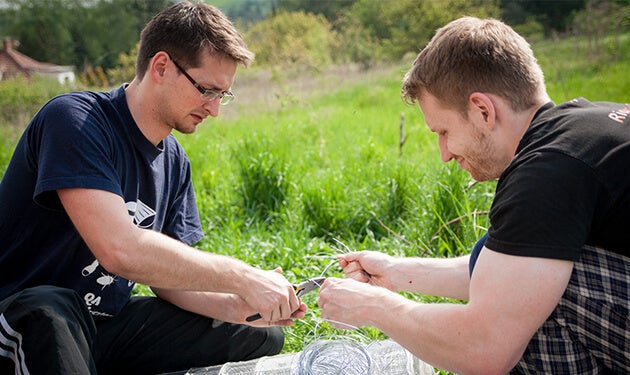 But, what would a delicious luncheon like this be without some live entertainment? Well, it would still be scrumptious, but you cannot beat a live improvisational theatre performance hosted by Velatice's local theatre group. Actually, as an added bonus, the mayor himself performed in a series of comical skits since he also happens to be the head of the group : )

To top it all off, even the local firefighters joined in on the fun! After, having coincidentally met the Kentico team during lunch, some of the members of the fire department began to water the planted trees with them. With their clothing covered in dirt and their hearts filled with pleasant memories of their excursion to Velatice, our planters had fulfilled their mission and returned home by 3:00 in the afternoon.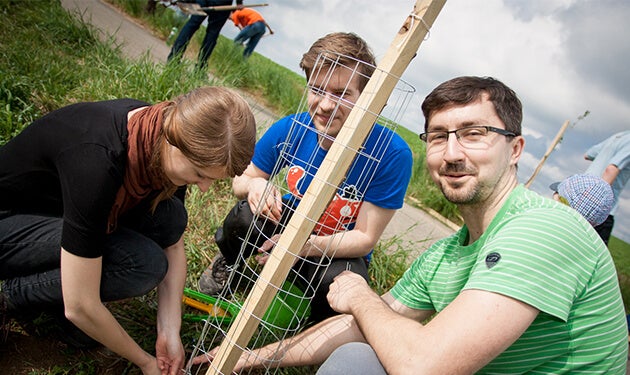 Kentico will always remember the day when the warm and jovial people of Velatice helped make their Trees for Bugs event more special. In the end, a helping hand is always much appreciated.
A big round of applause to all our bug-finders! With your assistance, we were able to fix the bugs within 7 days and enjoyed a beautiful Saturday outing while planting trees in the process.